Speak Spanish like a native
Available soon in 2022!
This book does just what its name says – you'll learn how to speak and use the Spanish language like a native. What other books and podcasts leave out, this book covers. From sex to job interviews to swear words to ordering a beer, it's all there. Lighthearted, fun, and accessible whatever your level – you won't be taken for a gringo or a guiri any more ;)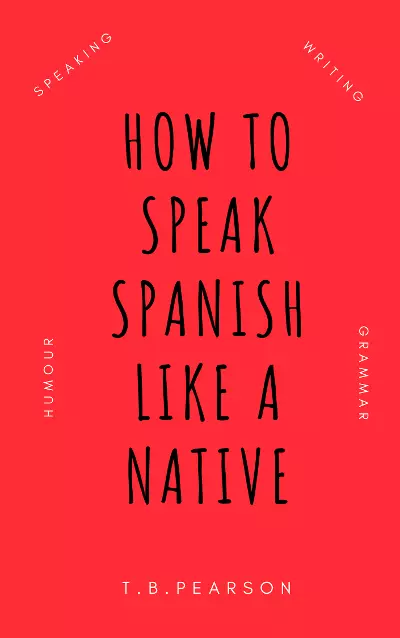 Contents
Sounding like a native
Learn about word stress, digraphs, hiatuses, diphthongs, triphthongs, tongue twisters, and everything need you for perfect pronunciation and sounding like a native.
Social life lived like a native
Greetings, goodbyes, meeting people, going for drinks, going to dinner, partying hard... Your Spanish social life won't be the same after this chapter
Writing like a native
Your complete guide to writing perfect Spanish: orthography, accentuation, emails, texting, and old fashioned letters.
Sex and relationships like a native
This chapter covers everything from dates, crushes, love, breakups, relationships, marriage, cheating, affairs, and of course, sex!
Getting angry like a native
Insults, swear words, and the subsequent apologies. Vital for a passionate Spanish experience.
Living like a native
Renting flats, going shopping, buying cars, paying bills, going to the doctor... All the slightly annoying but necessary facets of life are taken care of here.
Joking like a native
Understand native jokes, sketches, and standup. Lots of material here to impress your friends with.
A bit of grammar like a native
The subjunctive, imperfect/preterite, por/para, ser/estar, personal a, relatives pronouns... These grammar pointers will make a big difference to your Spanish.
Professional life like a native
How to shine in a job interview, get on with your colleagues, understand work culture, and generally function in a Spanish speaking working world.
Spain like a native
Discover the different regions of Spain and the cultural and linguistic intricacies of the country.
Everything else like a native
Leaving no stone unturned, this final chapter covers everything and anything that might be useful in our quest to get you speaking Spanish like a native.